Agricultural drones may change the way we farm:
For centuries much of farming has been legwork: walking down rows, through patches, going plant-by-plant to check for weeds, bugs, parched soil, any sign of distress. Modern machinery, soil-testing, computers, and ground-based sensors have made crop monitoring and tending more efficient, but still lots goes unnoticed.

Even with a trained eye, there also are inevitably data that can't be detected at scale, such as nitrogen deficiency or diminished photosynthesis, the chlorophyll-powered process that is crucial for a healthy plant. And if one ailing plant is found, what is the impact on the sometimes hundreds of thousands of plants that surround it? Farmers were long left to guess.

Not for much longer: Agriculture drones may soon be flying across America's farmland.
I ask an ag journalist and an ag tech person I know about this story. "What unconventional things related to the use of drones are you seeing?"
They aren't seeing anything unconventional, because the idea of convention is a bit thin at the moment as it relates to drones in agriculture.
You knew this already, if you've been reading this site …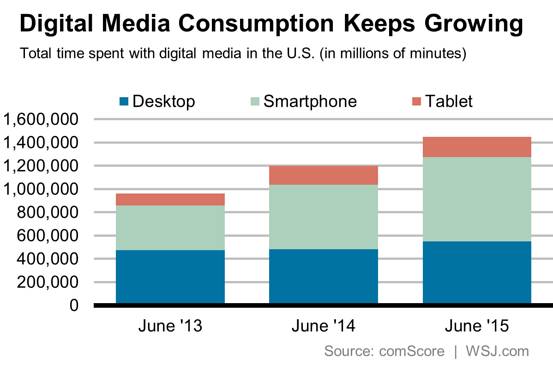 Digital Media Consumption Is Booming as Investment Floods In:
Here's some good news for online publishers: People in the U.S. are consuming more digital media than ever before, and their appetite for it is only growing.

According to data from online measurement firm comScore, the total amount of time spent with digital media in the U.S. increased by a whopping 49% over the past two years, driven largely by the use of non-desktop devices.

Time spent with digital media on smartphones grew 90% between June 2013 and June 2015, comScore said, compared with a 64% increase on tablets.